The Dirty Farmers Community Market's Greater Good Retreat is located deep in the Ozark Mountains and provides a guest cabin for an overnight stay and a children's nature camp in the Spring and Summer. We provide fresh local produce and homemade fresh bread to Seniors in need in our local community. Nature walks are provided for those wanting to call ahead to make an appointment to visit the location.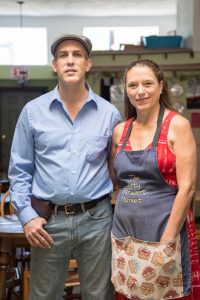 Note:
The downtown Clinton location of the Farmer's Market & Greater Good Café (information described below) has closed as of Oct. 2016 as the efforts expanded to the Retreat.
The Dirty Farmers Community Market is a 501c3 non profit organization. We are a year round farmers market selling antiques, crafts, collectibles, baked goods, produce, local meats, and much more! Our Greater Good Cafe located in the back of the market serves our community with a daily lunch for a price you can't beat! We allow patrons to "eat what they need and pay what they can" for their meal. We simply trust that people will pay what they can afford and will come back in to pay it forward for another when they can. This has proven to be true for over 3 years!
Recently, we have been growing our own vegetables to provide fresh produce to some of our seniors in our community through our feed the seniors program. Our market is about bringing people together for the common good. Community matters to us! We would love for you to join our family so stop by and introduce yourself!


---
Jenkins Road
Botkinburg, Arkansas 72031