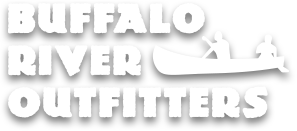 Canoes and Cabins on the Buffalo River in the Arkansas Ozarks
Are you planning a one-day, overnight or multi-day trip on the beautiful Buffalo River in the Arkansas Ozarks? Get the supplies you need with Buffalo River Outfitters, where you have access to high-quality canoes, kayaks, rafts, tubes and other equipment—along with beautiful log cabin rentals. And if you're not quite sure what you need, you can speak with our friendly and knowledgeable staff, who will make sure you have everything covered before you embark.
Buffalo River Outfitters is Located on U.S. 65 at Silver Hill, AR in the middle river district of the Buffalo National River. Silver Hill is the location of the Tyler Bend access, which is home of a visitors' center museum and campground.
The first official national river in the United States, the Buffalo River is known for its beautiful scenery, crystal-clear water and swift currents. We're here to make sure your Ozarks adventure is a memorable one!
Picture yourself drifting below high limestone bluffs on the clear waters of the Buffalo, enjoying the serenity of a day on the river, watching the wildlife, stopping to swim and picnic and counting the variety of trees and wildflowers along the shore. Let us turn your dream into reality!
If you're yearning for a place where life will slow down for awhile, your soul will be steeped in peace, and the beauty of the world around you will provide uplifting memories for months to come, welcome to our part of the Buffalo River Country.
We pride ourselves on our spacious, comfortable log cabins, but at Buffalo River Outfitters, we offer much more than just a place to stay. We're a complete Ozark vacation destination with canoes, rafts, kayaks, tubes, hiking and more. Once you've reserved your cabin, explore the rest of our site to discover all the adventures that await you here on the Buffalo River.
9664 Hwy 65 N.
St. Joe, Arkansas 72675